Festival Float Rituals at the Takaoka Mikuruma-yama Festival
This is a ritual performed annually on May 1st at the spring festival at Takaokasekino Shrine. It is said to have begun when the samurai Maeda Toshinaga gifted an ox-drawn coach to the townspeople during the construction of Takaoka Castle. This coach had been used in 1588 by warlord Toyotomi Hideyoshi to welcome the Emperor Go-Yozei to Jurakudai Palace. It was pulled through town in Takaokasekino Shrine's regular festival along with small portable shrines, and has since become a part of the city's heritage as Takaoka has developed.
The mikuruma-yama floats are shaped like ox-drawn coaches, affixed with a special lance on top, and bring together the incredible skills of Takaoka's metal and laquer craftsmen in the ornamentation on their wheels, railings, and beams, making them some of Japan's finest.
Festival Highlights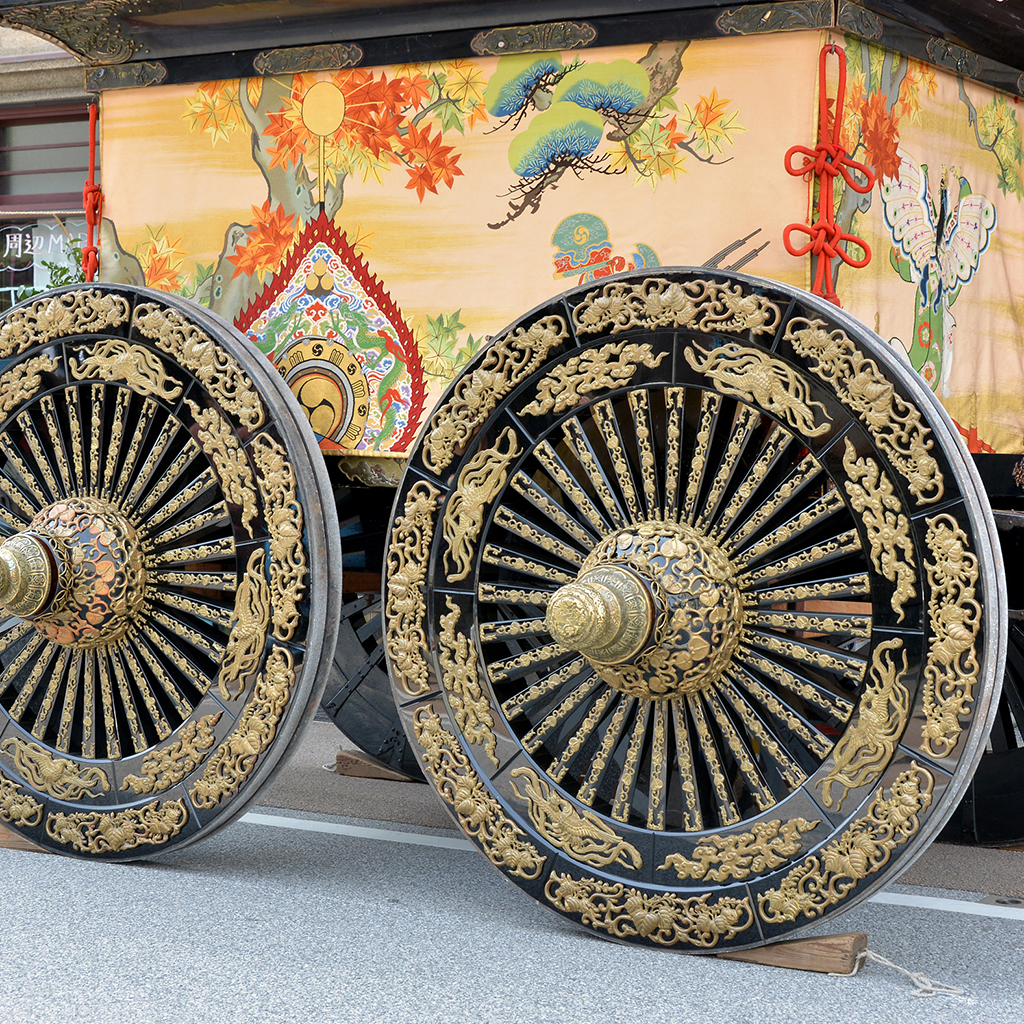 Mikuruma (Dashi Floats)
These floats are elaborate pieces covered with ornate carvings and engravings, with brightly-colored flower-umbrellas atop the pillars at their center. They stretch to a height of an incredible 9 meters, and the elaborately decorated wheels reach to about the height of an adult, best seen up close for their full effect. The shape of each float differs from neighborhood to neighborhood, including differences in size, and completely different decorations. There just isn't enough time to properly take in the whole of each float. These are truly works of art, and it's no exaggeration to call them moving art museums. The karakuri marionette works are also a sight to see!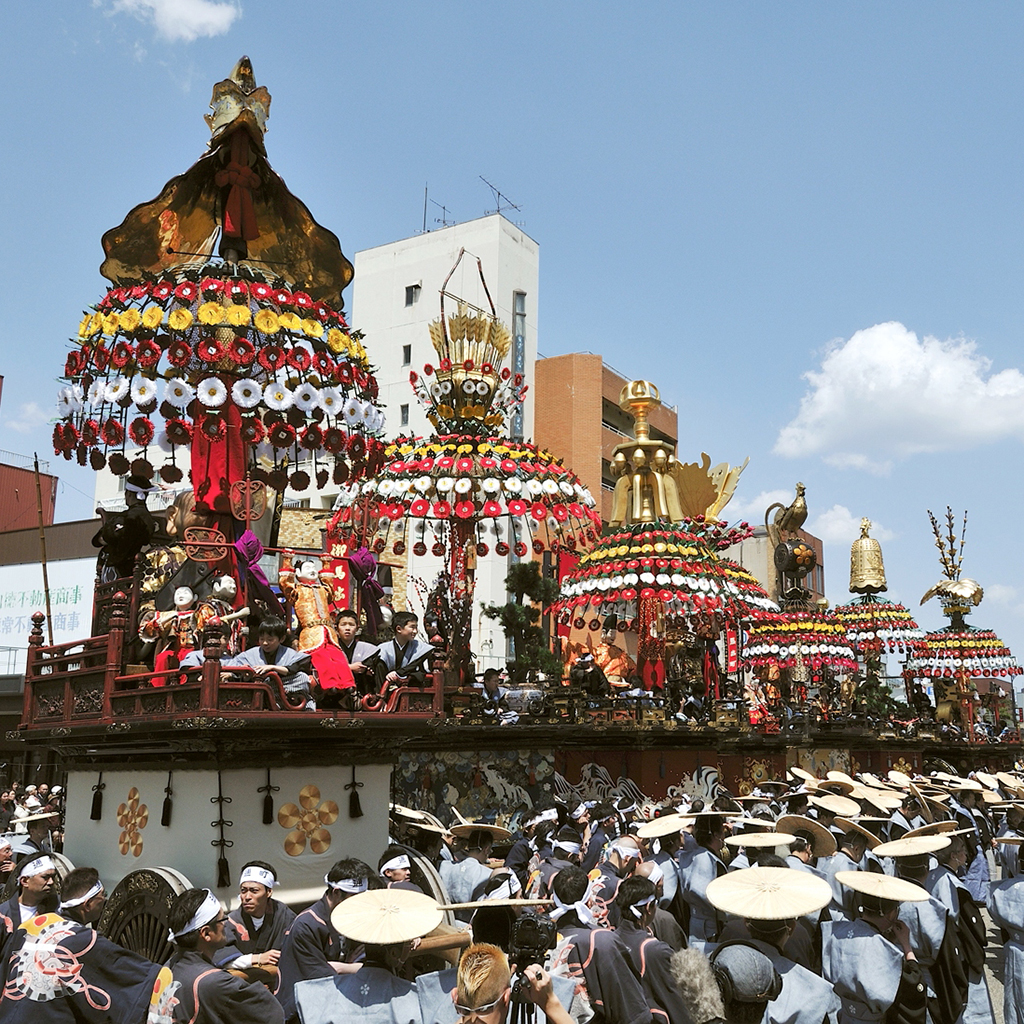 Bu-ei
The portion of the festivities in which attendants ("gubusha") pull "yama" floats through the center of Old Takaoka is called the "Bue-ei" (lit. "pulled offering")This day draws the largest crowds of the entire festival. People come from across the country for a sight of the large floats elegantly on parade!
"Gendaijishi" lions will lead the procession to purify the street in advance of the gods in the 7 dashi floats behind. (Many lion dances have been passed down as a part of Toyama Prefecture's traditional culture. It holds the number one position for number of lion dances.)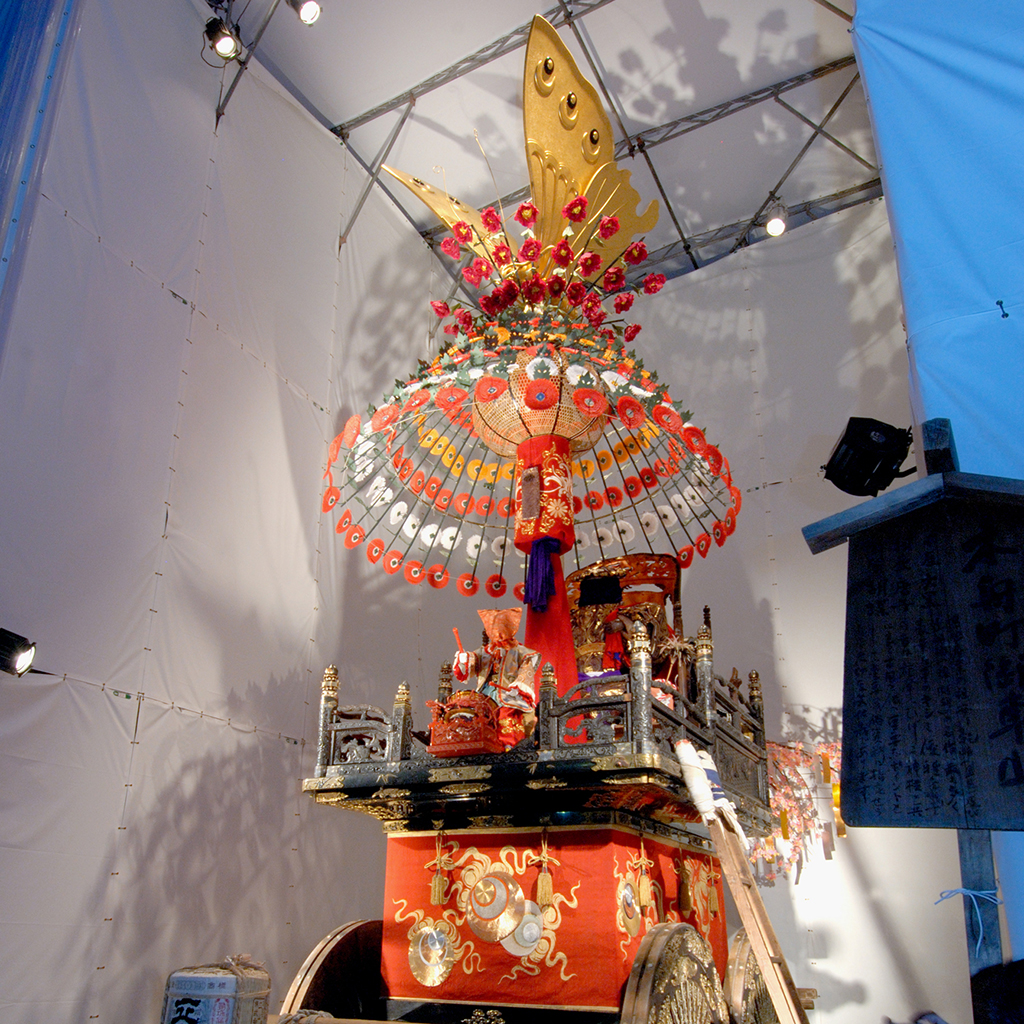 Nighttime Light-up Displays
During the smaller nighttime festivities of the night before, some of the festival floats with be lit-up and put on display.
You'll be able to get a good look at the festival floats, in a different light than the daytime festivities.
These extravagantly decorated floats are certainly worth a look.
In recent years, photos of the festival floats all lit-up at night can be seen on social media during the Takaoka Mikuruma-yama Festival. There are fewer people than the daytime events, and you'll only be able to enjoy a taste of the festival floats in this unique setting on this day, so be sure not to miss it!
Takaoka Mikuruma-yama Float Exhibition Hall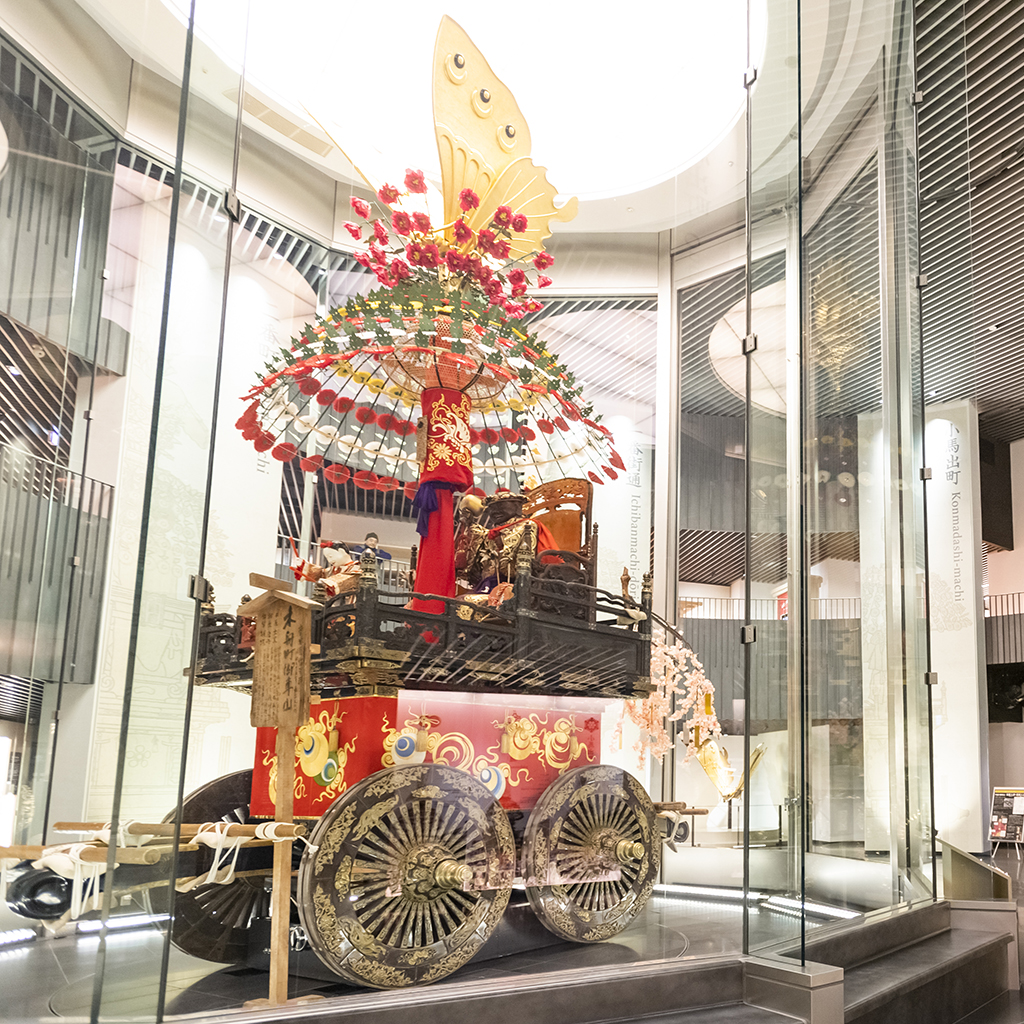 Exhibition Hall Information
Entrance Fee
General (High School Students and above) 450 yen
Groups (20 people or more) 360 yen per person
Business Hours
9:00 a.m. - 5:00 p.m. (Entrance until 4:30 p.m.)
Closing Days
Tuesdays (When Tuesday is a national holiday, the exhibition hall will be closed the following day), New Years holidays
Tel
+81-766-30-2497
Note
Prices are subject to change.
The exhibition hall displays a "mikurumayama" float, one of only 5 in Japan, and a nationally designated Important Tangible and Intangible Folk Cultural Property throughout the year. Participating in the festival will be even more enjoyable once you know more about the floats and the festival's history. The exhibition hall will detail the Takaoka's manufacturing arts, all brought together in the magnificent floats, and the culture that has protected them, and is also headquarters for a walk through the old town, through Takaoka's cultural heritage.
Access
From Shin-Takaoka Station
By Bus

By Car(10m)

*Times are estimated
From Takaoka Station
By Walk (10m)

By Bus (10m)

By Train

By Car(3m)

*Times are estimated
Noto Expressway
By Car(10m)
*Times are estimated
Hokuriku Expressway
By Car(20m)

*Times are estimated
Festival Overview
Festival Period
Annually on May 1st
Festival Times
[April 30th] Light-Up Displays 6:30 p.m. - 9:00 p.m.
[May 1st] Pulling of the floats throughout the town 11:00 a.m. - 6:00 p.m.
Venue Name
Around Takaoka City's Sancho-suji and Kataharacho
Address
Sancho-suji, Takaoka City, Toyama Prefecture
Cautionary Notes
Please use municipal parking lots around the station.
Municipal O-Tabiya Parking Lot: 355 vehicles, Municipal Takaoka Chu-o Parking Lot: 751 vehicles
Parking Fee: Depends on the parking lot.
Regarding Nearby Traffic Restrictions, etc.
Traffic restrictions will be put in place in the Yamachosugi area of Takaoka Station's north exit, where the floats will process, at the following times:
・April 30th 4:00 p.m. - 9:00 p.m.
・May 1st 10:00 a.m. - 6:00 p.m.
Download pamphlet(PDF)
©Hida Etchu Noto Economic Tourism Association